Home >
Centennial Giveaway
We are so proud to be celebrating our 100th birthday that we are giving away exciting playground products valued at more than $30,000 with our year-long Centennial Giveaway! 
Win exciting products from our new Centennial Series featuring iconic Blue Imp pieces re-imagined for today: the Ocean Wave, ImpMobile, Giant Stride and Elephant Climb (see below). Contests will be on tap all year long and are open to public organizations who provide playgrounds for public use in Canada (except Quebec).   
A whole new spin on the original, the 2017 Ocean Wave spinner features dynamic net elements and delivers spinning thrills for ages 5-12. Multiple ways to play for multiple abilities. Enter to win an Ocean Wave now!
The ImpMobile is a unique "hybrid" combining imaginative play with climbing activities for ages 2-5. Promotes social interaction and role play. Roof provides a perching spot along with clambering fun.
Whether clambering up the leg walls, exploring the "net belly" or swooshing down the trunk, kids of varying ages and abilities will discover gigantic fun on the all-new Elephant Climb!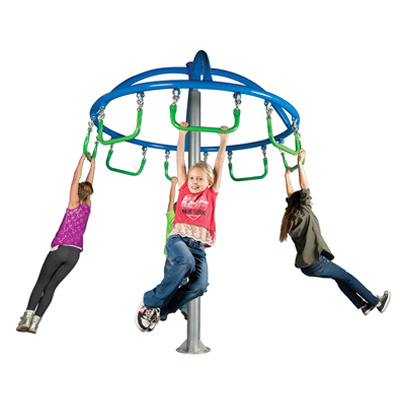 With the Giant Stride, kids can grab hold, build speed with a few giant strides and let themselves fly! Upper body challenge meets spinning action in this fresh take on the popular classic!
Watch for details on upcoming contests for more amazing Centennial products! It's celebration time!