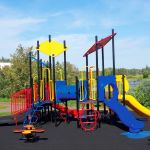 Bill Fowler Centre
Model Number: C17-23
---
A huge variety of slides and climbers connected via a crawl tube sets the scene for non-stop fun for younger ages. Transfer station provides easy access.
Recommended Ages: 2-5 years
Accessible Design: features transfer station
Area Required: 12.1m x 12m (40' x 40')
Notes: Freestanding Multi-Bounce shown in photo not included.
---
More Playground Designs
Here are more products you might like.