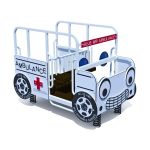 Bouncing Ambulance
Model Number: CN-443-01
---
Diverse ages and skill levels will enjoy going for a bumpy ride together on the multi-user Ambulance! A great way to promote social interaction, imaginative play and more. Spring-mounted to provide the bouncing motion kids love.
Recommended Ages: 2-12 years
Benefits: Imaginative Play, Parallel Play, Social Interaction
Design Options: May be attached to a structure with access via wheelchair ramp.
---
More Early Childhood Extras
Here are more products you might like.